2021 Komen Central Texas MORE THAN PINK WalkŪ
October 24, 2021
7:30 am Hope Village Breakfast for Survivors/Living with MBC
8:00 am Walk Village Opens

The Long Center
$277,349.54
Austin Texas

Pre-Event Activities
Walk Facebook Group | Going on now!
We have a special place to gather virtually from now through Walk. Join our Facebook group to share your photos, post videos (use hashtag #walkwhereyouare), chat with other participants, share tips and stories about your fundraising and teambuilding, and more! Join the conversation now!
The Remembrance Wall | Going on now!
The Remembrance Wall - Our virtual version of the We Remember Tent where we invite and encourage you to share a tribute message, photo or video (or all three) to honor the memory of a loved one who lost their life to breast cancer.
Community of Hope* T-Shirt Pickup
Saturday, October 23, 9:00a-1:00pm at Long Center, Austin
Sunday, October 24 7:00a-8:30am at Long Center, Austin

The Community of Hope T-Shirt Pickup is for participants who are registered for the in-person event AND
Registered for in-person event
AND
Registered as a breast cancer survivor or living with MBC will receive a signature pink survivor or Living with MBC berry MORE THAN PINK Walk t-shirt
OR
Registered participant who has raised $100 - will receive signature grey MORE THAN PINK Walk t-shirt

NOTE: Those who are registered for VIRTUAL walk and meet the above requirements will have their t-shirt mailed the week of 10/10. Those who register after that will be able to pick up their t-shirt at the pickup on 10/23 or 10/24.
Power of ONE Week
October 18-23 | ONE final week, and ONE final push to make a HUGE impact in the fight against breast cancer. Together, let's see what a difference ONE week can make.
Be sure to join our Facebook Group to participate in the activities along with everyone registered to our Walk this year! Post photos of your daily celebrations to our Facebook Group or social media and use #PowerOfONEWeek so they'll be displayed on our ONE Community Photo Wall!
Join us for Komen Bingo! This week, cross off blocks on the bingo card as you participate in Power of ONE Week activities, learn about Komen's 360° approach to finding the cures to breast cancer and, most importantly, raise funds to support Komen's work. How many ways can you spell KOMEN? Click to download the Komen Bingo Card and Power of ONE Week Schedule and play along. Post your progress on social media and in our Walk Facebook Group!
________________________________________
---
MORE THAN PINK Walk® Event Day Schedule
We look forward to celebrating with you on October 24th! Whether you choose to Walk with us in person or from your own neighborhood, you will feel the power of ONE community wherever you are.
VIRTUAL
If you're joining us virtually, don't miss our Virtual Opening Ceremony at 9a.m. Join us on Zoom starting at 8:45 a.m. or via the Central & East Texas MORE THAN PINK WALK Facebook Group
Join us online for our virtual opening ceremony and share your photos with #WalkWhereYouAre and #MoreThanPinkWalk .
Get Ready for the Virtual Walk with these tips! Whether you participate for your friend who is newly-diagnosed, your sister living with breast cancer, for yourself as a survivor, or in memory of a loved one, we are stronger when we join together.
Health & Safety Plan for IN PERSON MTPW at Long Center
We come together to show our passion for saving lives and our compassion for others impacted by breast cancer.
In that spirit, and out of respect for those joining us on event day who may have compromised immune systems, please help us ensure the health and safety of our entire breast cancer community by providing your proof of COVID-19 vaccination or a negative COVID test taken within 72 hours of the event upon entrance. This only applies to those who are 14 years old or older.

We also encourage wearing a mask where social distancing cannot be achieved. Mask zone signs will be posted in certain areas, including Hope Village where breast cancer patients and survivors will be gathering.

If you are feeling ill, have symptoms of COVID-19 or have been exposed to COVID-19, please stay home, be well, and join us virtually. Join us on Zoom starting at 8:45 a.m. or via the Central & East Texas MORE THAN PINK WALK Facebook Group for the Virtual Opening Ceremony at 9a.m
Schedule
7:30 am Hope Village Breakfast for Survivors/Living with MBC
8:00 am Walk Village Opens
8:30 am Opening Ceremony LIVE at Long Center, Austin TX
9:00 am Walk Begins approximately a 2 mile walk
9:30 am Entertainment with Courtney Santana Music
This year's walk course is approximately 2 miles long. Route Map
Entertainment
Guests will be treated to live music after the Walk by Courtney Santana Music
Parking
Note that 1st street will be closed between Barton Springs Rd and Caesar Chavez. Please park in the Texas One Center multi-level garage for $5 or the free TXDOT Surface Lots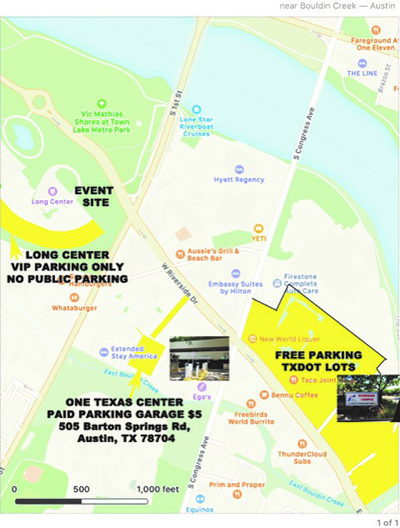 Note that the Long Center/Palmer Garage is reserved for survivors, top fundraisers and sponsors. This lot is not available to the public.
WACO MEET UP
In Waco? Join the In Person Meet Up (come and go) 8:00am-10:30am
Walk On's Sports Bistreaux's parking lot, 5601 Crosslake Pkwy, Waco TX 76712
Park and enter the one-mile Crosslake Pkwy trail to walk around the lake
Enjoy Pink Balloon Arch for photos, Honor & Memoriam area, Painted Pink Path, Sign Up to Become a Breast Cancer Advocate, Survivor Grab & Go on the Patio
On October 24, 2021, we will walk for the people who can't: For those too weakened by treatment to join. For those who are suffering. For those we have lost. Together we will fight back against breast cancer.