2022 Komen Columbus Race for the CureŽ
Saturday, May 14, 2022
May 1-6: Columbus Race Spirit Week
May 8-13: Power of ONE Week

YARD SIGNS
We have 2022 Columbus Race Yard Signs available for pick up! These are available for pick up at Go Store It Self-Storage inside their front lobby. Their lobby is open 24/7 and all you need to do is pop in and grab yours! We have a limited quantity, so make sure you pick yours up soon. You are not limited to just one, so please grab a few for your loved ones and help us spread the word about the Columbus Race for the Cure! Address for pick is up below.

Go Store It Self-Storage
1123 Goodale Blvd
Grandview Heights, OH 43212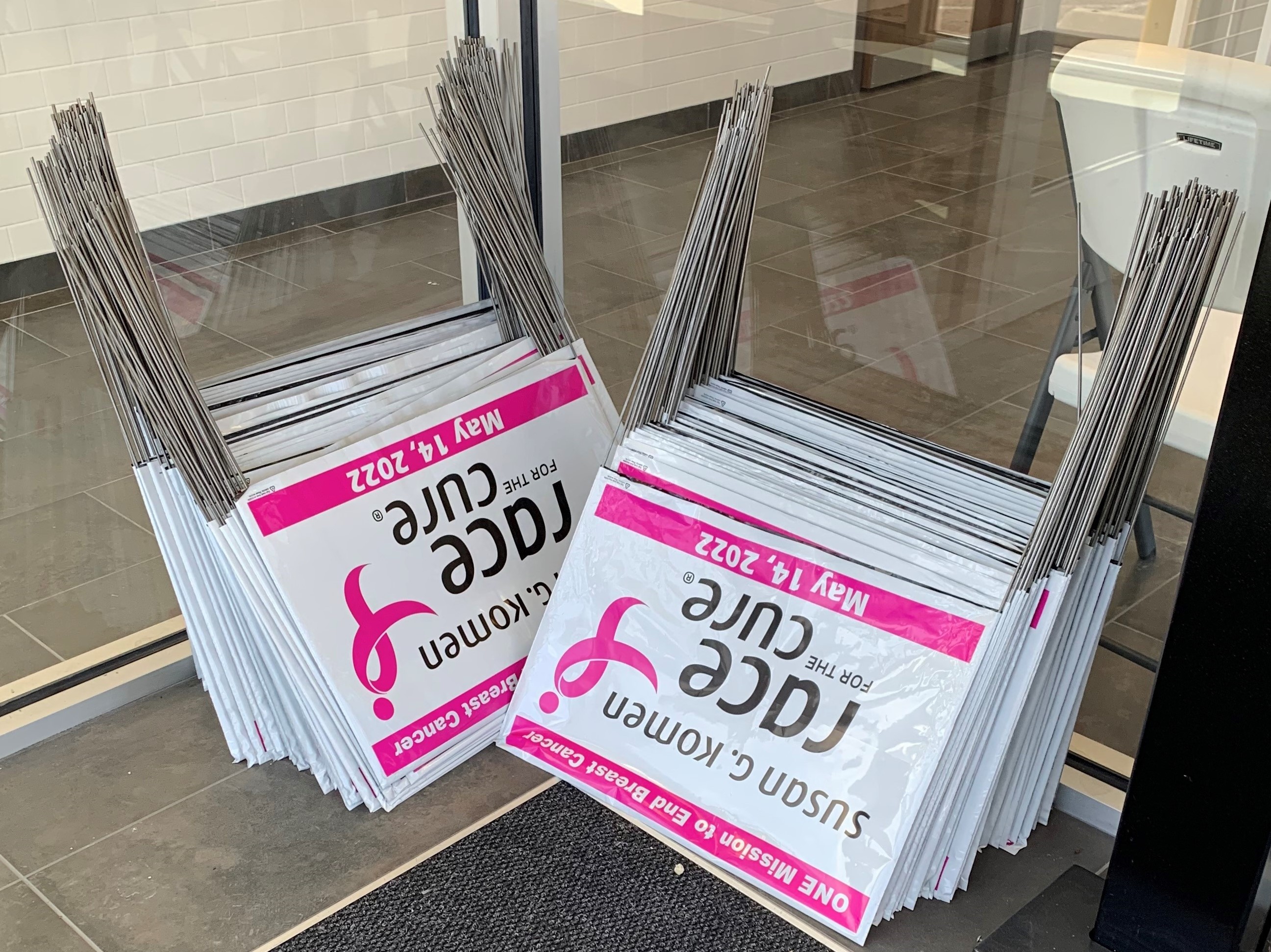 RACE PACKET PICK UP
There will be an in-person race packet pick up for the 2022 Columbus Race during race week. This is a new pick up location! We will be in the old Radio Shack store front in the West Park Plaza Shopping Center in Westerville, Ohio. Below are the following days and times that you can pick up your packets. If you are unable to pick up during these times, you will have to pick up your packet on race day in the registration tent.

Location: 95 Huber Village Blvd, Westerville, OH 43081
Saturday, May 7th from 10am-3pm | Team Packet Pick Up Only
Tuesday, May 10th from 9am-7pm | Individual + Team Packet Pick Up
Wednesday, May 11th from 7am-5pm | Individual + Team Packet Pick Up
Thursday, May 12th from 9am-7pm | Individual + Team Packet Pick Up
If you want your packet mailed instead of coming in-person to pick up, please select the $10 mailing fee at registration. If you have registered as a virtual participant but did not pay for the $10 mailing fee, you still have to pick up your packet in-person. If you have already registered and you want your packet mailed, please email
lcollins@komen.org
.
Columbus Race Spirit Week
May 1-6 | Join us for our third annual Columbus Race Spirit Week! Take part in daily activities and share your Komen spirit in our Columbus Race Facebook Group HERE.
May 1 | Self-Care Sunday
Kick off the third annual spirit week with your favorite self-care activity. Face masks, meditation, a fitness class and more!

May 2 | Light Up the Night Monday
Put a pink light bulb in your outdoor lights and light up your neighborhood pink!

May 3 | Cheers Tuesday
Grab your favorite pink drink and raise a glass with Komen!

May 4 | Wear Your Pink Wednesday
Tutus, wigs, favorite race t-shirt — we want to see you in it!

May 5 | Throwback Thursday
Share your favorite race day photo or memory! If you're new to the race, share what you're most excited for on race day.

May 6 | Chalk Your Walk Friday
Draw your best pink ribbon on our driveway or sidewalks! Let your inner artist shine!


Power of ONE Week
May 8-13 | ONE final week, and ONE final push to make a HUGE impact in the fight against breast cancer. Together, let's see what a difference ONE week can make.
Click for a week's worth of downloadable tools , including graphics for sharing on social, digital stickers and GIFs to jazz up your photos, and more!
Don't forget to post photos of your daily celebrations to our Facebook Group or social media and use #PowerOfONEWeek so they'll be displayed on our ONE Community Photo Wall!
May 9 |
ONE Mission Monday
Complete the ONE Mission Journey, found online or on the Race for the Cure App. Then share one new thing you learned on social with a link to your fundraising page.
May 10 |
My ONE Tuesday
Share a photo of your reason for walking via text, email or social media. Ask your audience to support you and your reason for racing. Get ready for this weekend!
Download
and fill out your In Celebration / In Memory back sign now.
May 11 |
ONE Community Wednesday
A great activity for teams, family and friends, this day is all about community! Host an outdoor dinner party/virtual cocktail hour. Ask all those in attendance to donate $20 "at the door". We even have some
ONE pot recipes
(or share your own!) and
Komen Conversation Cards
available for download in the Fundraising Tools section of your Participant Center.
May 12 |
Celebrate ONE Thursday
It's a Power of ONE Week Party to celebrate as ONE for the cause. Take this day to thank your donors for their support! Record a quick happy dance and share with your thank you note.
May 13 |
ONE Funday Friday
It's time to pink out! Let's see those tutus, boas, vintage Race tees, accessories and more. Share a selfie in our
Facebook Group
and then post to social media using #powerofONEweek #RacefortheCure #ONEkomen.
FUN FUNDRAISING IDEA:
Use your outfit to create a "Dare to Wear" fundraising challenge, telling your followers you'll add one more pink item to your Race day outfit for every $20 you raise on Friday.
Join us for Komen Bingo! This week, cross off blocks on the bingo card as you participate in Power of ONE Week activities, learn about Komen's 360? approach to finding the cures to breast cancer and, most importantly, raise funds to support Komen's work. How many ways can you spell KOMEN? Click to download the
Komen Bingo Card and Power of ONE Week Schedule
and play along. Post your progress on social media and in our
Race Facebook group
!
Race for the Cure® Event Day Schedule
We look forward to celebrating with you on Saturday, May 14, 2022!
Check out our NEW COURSE!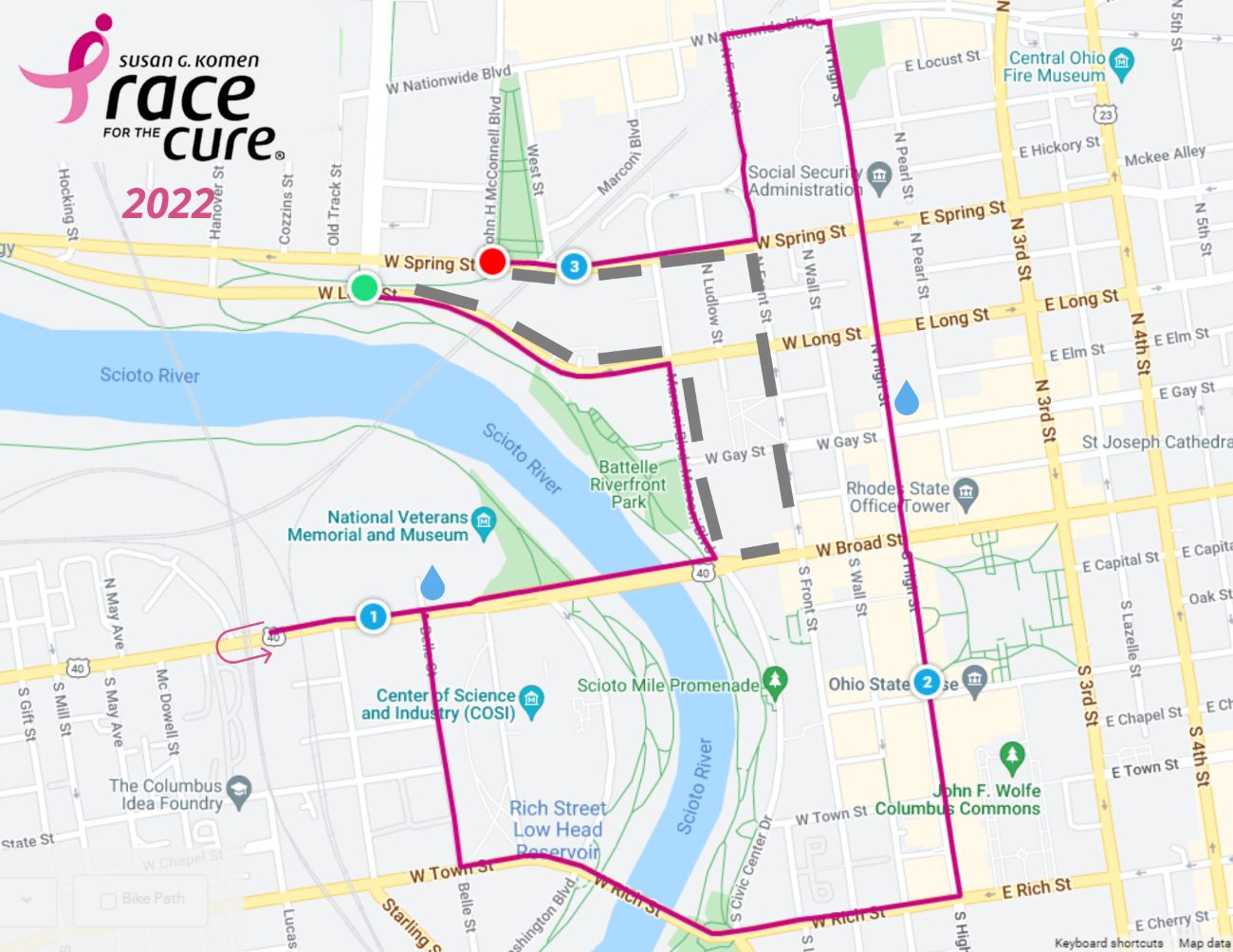 Event Day Schedule
6:30 am: Registration Opens
7:00 am: Expo Opens
8:15 am: Hope Parade
8:30 am: 5k Run/Walk Starts
8:45 am: Family Fun Walk Starts
Block Party to Follow
Site Map
Download Site Map

Hope Village
Hope Village is a special area for our breast cancer patients, survivors and those living with Metastatic Breast Cancer. You must have a pink wristband to enter this tent. You will find goodie bags, snacks, special activities with Penzone Salons + Spas and more!
VIP Tent
The VIP Tent is a special area for the top fundraisers. If you have raised $500+ as an individually, you're able to visit this VIP tent on race day. You will find goodie bags, snacks and a an opportunity to be entered in to win a Komen swag bag.
Block Party
The Columbus Race for the Cure will be hosting a 30th Anniversary Block Party directly after the race. The Block Party celebration will be in North Bank Park. Continue your celebrations and join us! All of our wonderful vendors will be donating a portion of proceeds back to the Columbus Race for the Cure to help continue to move our mission forward!

Food + Drinks

The Columbus Coffee Co
Schmidt's Sausage Truck
Broke Johnny Food Truck
Tara's Ice
Local Vendors

Kendra Scott: Kendra Scott has created a special curated Race for the Cure collection that will only be available on race day.
Bend Active: Bend Active will be selling Komen branded swag.

Activities


JOANN: They will be providing various free craft activities for you to make on race day or take with you to do at home. These activities will be for all skill levels and are family friendly.
Professional Photos: We will have a photo area where a professional photographer will be available to take your photos and will provide a link for you to download your photos for free.

In the interest of keeping our participants safe, Susan G. Komen will follow local, state and federal guidelines or mandates related to COVID-19. Please review the event's webpage and/or email communications to receive up-to-date information, including safety precautions or event cancellation. Participants may be required to use protective measures, such as mask wearing, social distancing and hand sanitizing/washing. The elderly, those with underlying medical conditions or weakened immune systems, including those who have breast cancer and are being treated with chemotherapy or immunotherapy or those with metastatic breast cancer, are especially vulnerable to COVID-19. If you have been exposed to COVID-19 or have experienced symptoms within 14 days of the event, you should not participate. Participants are solely responsible for their personal health and safety. For more information about COVID-19 and breast cancer see https://www.komen.org/breast-cancer/survivorship/health-concerns/coronavirus-information/.

All Day Long | Race where you are Hop on the treadmill, take to your neighborhood sidewalks or the paths of your favorite local park or trail wherever you're able to safely gather and socially distance with friends, family, and team members.

All Day Long | ONE Community Experience We've packed our event day with loads of fun and interactive activities that will connect us all as ONE Community and take your Race to the next level!

ONE Audio Experience

Get ready to be inspired! Our event-day podcast is filled with stories from those affected by breast cancer as well as people helping to make a difference through research, care, community, and action.

Click to tune in

!

ONE Photo Wall This is what ONE community looks like. View all the powerful moments from the Columbus Race for the Cure and other Races and Walks from across the country. Share your event day photos on social with #ONEKomen and #RacefortheCure to have your photos appear on the wall!

Event Day Tools
Parking Map & Information
Parking is located in the Arena District. Due to several road closures in the area, please see the Parking Map and detailed Parking Instructions for how to access the parking areas.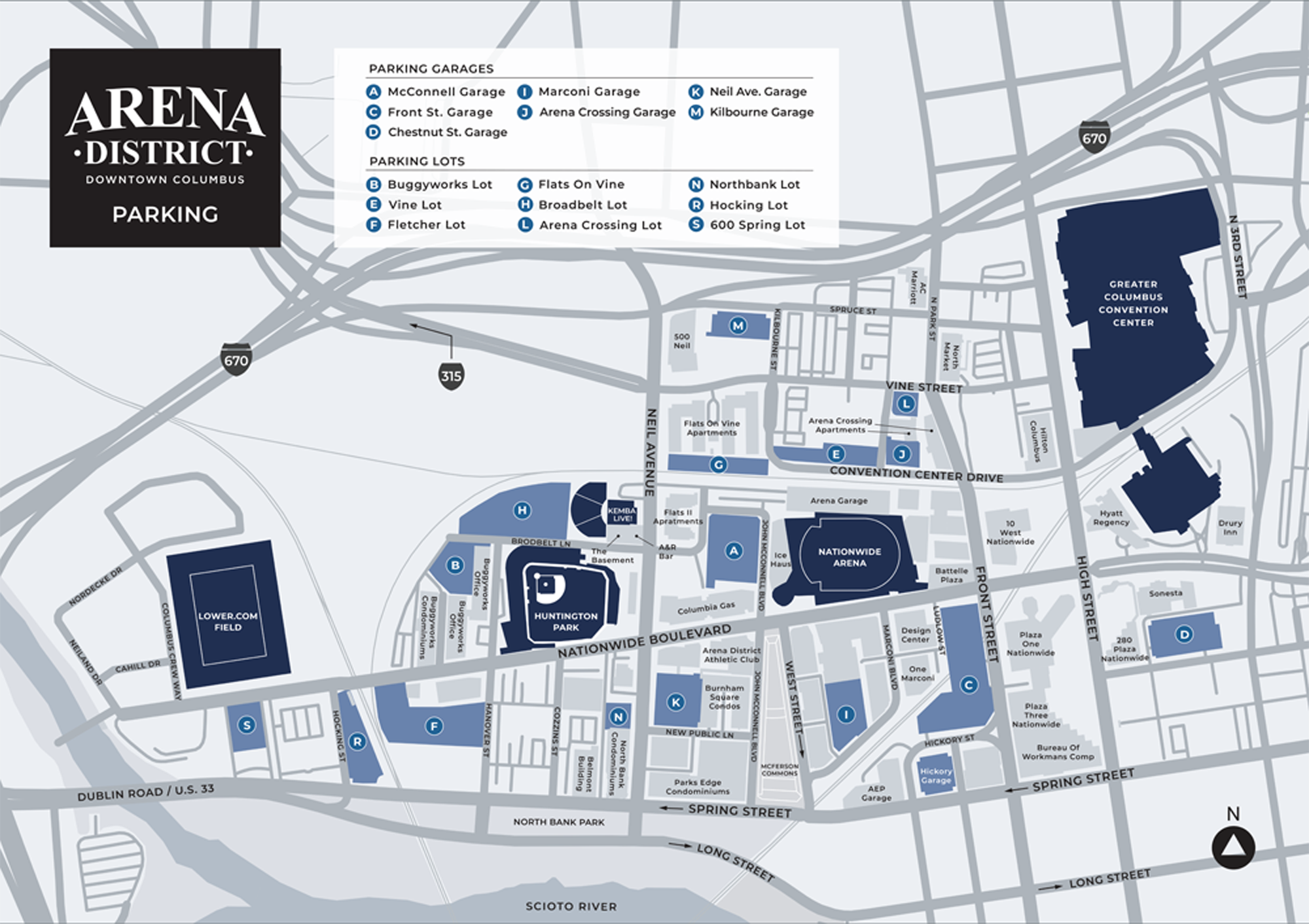 Download Parking Map

Download Parking Instructions

In the interest of keeping our participants safe, Susan G. Komen will follow local, state and federal guidelines or mandates related to COVID-19. Please review the event's homepage and/or email communications to receive up-to-date information, including safety precautions or event cancellation.
On Saturday, May 14, 2022, we will Race for the people who can't: For those too weakened by treatment to join. For those who are suffering. For those we have lost. Together we will fight back against breast cancer.