5K a Day for Breast Cancer!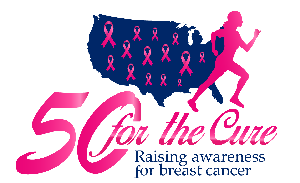 Join me to run/walk a 5K a Day or make a donation online with your credit card by clicking the button above my fundraising thermometer. Let's end breast cancer together one mile at a time!
Here are the options to join the 5K a Day run/walk:
- Join me virtually once a week to run/walk together on Zoom from wherever you are! Sign up at 50fortheCure.org.
- Log your miles on the Strava app and then post a screen shot of your run/walk on your Instagram and/or Facebook and tag @50fortheCure #5KaDay
-Make a donation to Susan G. Komen by clicking on the Donate button on this page
I want to help Susan G. Komen save lives and end breast cancer forever. I'm taking my first step towards a world without breast cancer by raising funds to stop this disease that affects 1 in 8 women during their lifetime.
As the world's largest and most impactful breast cancer organization, Susan G. Komen supports more breast cancer research than any other nonprofit outside the U.S. government, while providing real-time help to those facing the disease.
Thank you for supporting me. Together, we are working toward ending breast cancer forever.
Sharael Kolberg
50fortheCure.org
View More