Join Belmont-Cragin Elementary in the Fight Against Breast Cancer 4K Walk, Run, Roll, Race for a Cure Event #BC4PINK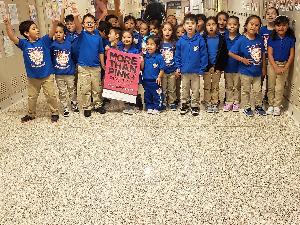 This year, Belmont-Cragin elementary wants to make an impact in the fight against breast cancer in a different way so we have teamed up with the Riis Park Advisory Council, local businesses, and schools for the first annual Belmont-Cragin Community 4K Walk, Run, Roll, Race For a Cure Fundraising Event!
We want to help Susan G. Komen save lives and end breast cancer forever. We are taking our first step towards a world without breast cancer by raising funds to stop this disease that affects 1 in 8 women during their lifetime. As the world's largest and most impactful breast cancer organization, Susan G. Komen supports more breast cancer research than any other nonprofit outside the U.S. government, while providing real-time help to those facing the disease.
With a MINIMUM donation of ONLY $5, YOU automatically ENTER the 1st annual Belmont-Cragin Walk, Run, Roll 4K Race for a Cure Event.
You can make a donation online with your credit card by clicking the button "DONATE NOW".
Event info: #BC4PINK
When: Saturday, October 5th @ 8:00 a.m.
Check in and race day donations: 8:00 a.m.- 8:45 a.m.
Pre-race announcements: 8:45 a.m. to 9:00 a.m.

Start times:
Bikes-9:00 a.m.
Run- 9:05 a.m.
Walk- 9:15 a.m.

Location: Riis Park, Chicago, IL

Who: Anyone with proof of donation (email receipt)
Post Race Party: 10:00 a.m. - 12:00 p.m. *Live entertainment
Thank you for supporting Belmont-Cragin elementary, as we participate in support of ending breast cancer forever.
View More
Fundraising Honor Roll
Rosa & Enrique Muhlberger
$52
Belmont Cragin Elementary
$50