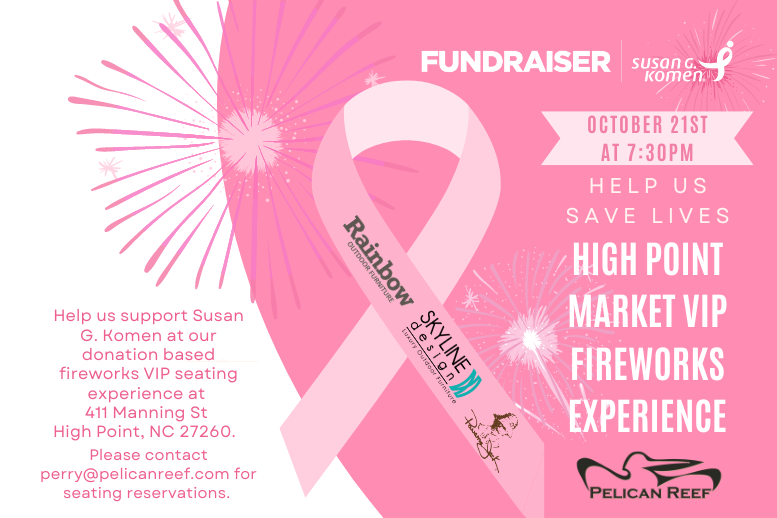 We want to help Susan G. Komen save lives and end breast cancer forever. I'm taking my first step towards a world without breast cancer by raising funds to stop this disease that affects 1 in 8 women in the U.S. during their lifetimes.
As the world's largest and most impactful breast cancer organization, Susan G. Komen supports more breast cancer research than any other nonprofit outside the U.S. government, while providing real-time help to those facing the disease.
Pelican Reef / Panama Jack Outdoor & Sunroom, Skyline Design, and Rainbow Outdoor is offering donation-based VIP seating for theHigh Point Market Fireworks show October 21st at 7:30pm.
Location : 411 Manning
High Point, NC 27260
All we ask is that you make your donation here and email me at perry@pelicanreef.com with your preference of chair or chaise lounge for seating Along with how many seats you will be reserving.
Suggested Donation Amount: $10
Help us support Susan G. Komen in their mission to save lives and end breast cancer forever!
High Point Fall 2022 Market Details:
•
Drawing special attention to one of seven showroom areas within the High Point Market District for the Fall 2022 Neighborhood Activation event, High Point Market Authority (HPMA) announces its Fall Market plan for the area known as Centennial Wrenn South (CWS), taking place on Friday, Oct. 21.
•
Registered High Point Market buyers and attendees will enjoy a host of exhibitor-sponsored activities in the CWS neighborhood throughout the day. A "Game Day'' theme sets the tone for engaging activities such as a bingo contest with prizes like Market parking passes, hotel accommodations, tech giveaways, and more. Throughout the day, participants may advance from building to building in the CWS neighborhood, adding to their bingo card as they go. To conclude the day,
celebratory fireworks will begin at 7:30 pm.
•
Although focused on the whole neighborhood, the overall program was developed by HPMA in partnership with neighborhood ambassadors from Centers of High Point, Market on Green, and Riverside Furniture.
"We're excited to welcome the industry to our first annual "Game Day" to kick off Fall Market with a full lineup of block parties, games, and, of course, furniture shopping," says Carrie Cox, HPMA Neighborhood
Ambassador for Riverside Furniture Corporation.
"This is a great opportunity to reach an audience that isn't familiar with all our neighborhood has to offer," adds Elaine Crowell, HPMA
Neighborhood Ambassador for Centers of High Point. "The event additionally helps reinforce our message to High Point Market buyers that exhibitors in this neighborhood open their showroom doors earlier than the official opening on Saturday."
•
"New product or vendor discovery is a perennial task for High Point Market buyers, and we know that sourcing showrooms located across 13 city blocks can be daunting," says Tom Conley, HPMA president and CEO. "Our neighborhood designations help to make the Market District more navigable, and the activation events will facilitate exploration of the buildings and exhibitors within each designated neighborhood."
View More