We're Going Streaking 2020! #popinforPINK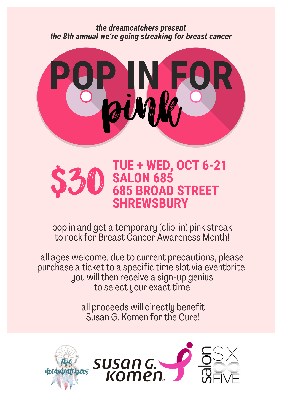 the dreamcatchers present: the 8th annual we're going streaking for breast cancer POP IN FOR PINK!
Sisters and dreamcatchers Marissa Klein and Jamie Sztoser have been hosting "We're Going Streaking," a Breast Cancer fundraiser where guests get a temporary/clip-in streak in their hair, since 2012. The idea started at their Hoboken salon after they just wanted to get ONE pink streak each to honor their mom, Nancy, who had just been diagnosed. After being told they needed to order the hair in bulk in order to pull it off, they got to work - and their annual tradition was born.
The sisters took a year off for their move to the 'burbs...but then in 2017, the amazing team at Salon 685 helped bring their dream to life in Monmouth County.To date, they have raised over $16,000 for Susan G. Komen, the organization that discovered the specific type of cancer Nancy has now beaten...AND WON'T LET COVID-19 STOP THEM!
Join them at their 8th Annual "We're Going Streaking" under a new guise this year - POP IN FOR PINK! Pop in and get a temporary (clip-in) pink streak to rock for Breast Cancer Awareness Month!
All ages welcome. Due to current precautions, please purchase a ticket to a specific time slot via eventbrite:'
https://www.eventbrite.com/e/pop-in-for-pink-tickets-121413700647
You will then receive a sign-up genius to select your exact time. Can't make it? DONATE HERE!
All proceeds will directly benefit Susan G. Komen for the Cure!
View More
Fundraising Honor Roll
Stacey Afflitto-Wain
$102
Danielle Modica-Jones
$100
The Premselaar Foundation
$30